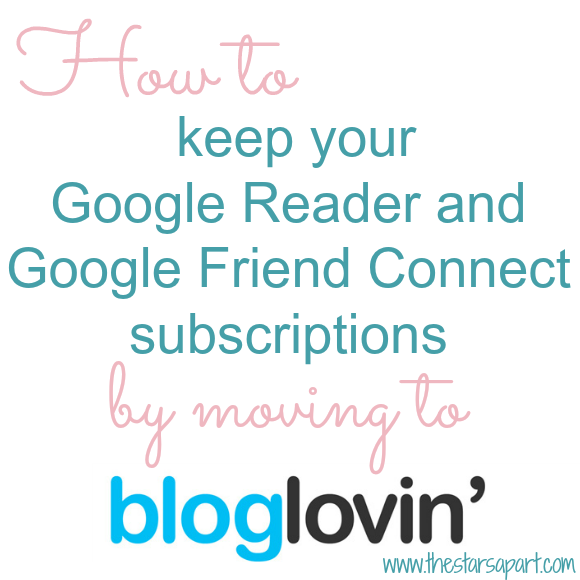 Okay, so if you're like me and you've been happily using Google Reader (or Google Friend Connect) to manage the blogs that you follow, you will have probably heard talk that as of July 1st, Google Reader will no longer be available. For me this became a lot more real today when I saw the message below pop up when I logged into my account.
This obviously leaves me in a bit of a pickle. I don't want to lose all of the subscriptions that I've so lovingly been following. It has taken a long time to discover all of the blogs that I like to read, and I definitely don't want to start again from scratch. This leads me to Bloglovin'.
I've been using Bloglovin' for awhile now, though only off and on as it was more convenient to keep track of my subscriptions on Google because I obviously blog on blogger. But to be honest, Bloglovin' has a lot of cool features that make it appealing to look at and very user friendly. And so I decided to migrate my subscriptions over.
If you're looking for a new reader to use in the place of Google Reader, I really recommend Bloglovin'. It's also super easy to move your subscriptions over – it will take less than ten minutes. If you're wondering how you can join me over on Bloglovin', then just follow the step-by-step instructions below. And don't forget to follow The Stars Apart.
1.  Head over to Bloglovin'. Click 'Join Bloglovin' to set up an account, or you can log-in to your existing account if you already have one.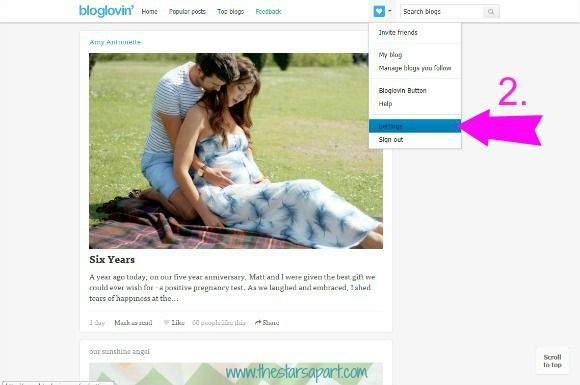 2.  Once your profile is created, you will be on your home screen. Hover over your profile button at the top, and when the menu opens up, click on 'Settings'.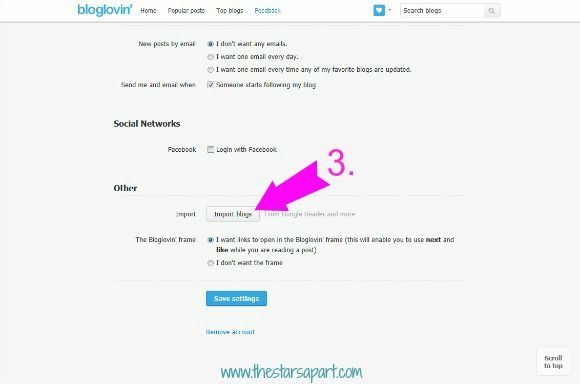 3.  Scroll down the page until you come across the Other section. Click on the 'Import blogs' button.
4.  Click on the 'Google Reader' button.
5.  You will then need to log in to the Google account that you use for Google Reader.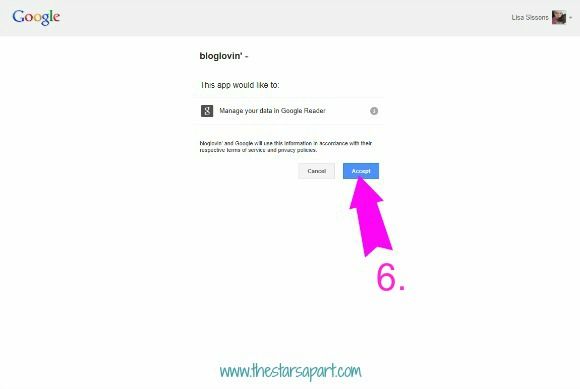 6.  Bloglovin' will ask for permission to manage your data in Google Reader. Click 'Accept'.
7.  You should now see the above screen. Bloglovin' is now importing all of your subscriptions from Google Reader into the Bloglovin' reader. Once this is done, all of the blogs that you followed on Google Reader or Google Friend Connect will now be available in Bloglovin'. Easy peasy (and totally worth it).
When you are on your home screen, you will see the feed for all of the blogs that you follow. Some features about Bloglovin' that I really like are:
The fact that new posts show as 'unread'. This for me flags up any posts that I haven't yet had a chance to check out. If a post is one you're not as interested in,  you can choose to just 'mark as read' and it will be taken off of the new posts list.
You have the ability to put your blogs into groups. This is super cool I think, because you may be into several different types of blogs – I currently have a Babyloss group, a Travel group, and a Fashion group.
You can 'like' posts
It's easy to share posts on to facebook and twitter.
Well, I hope that you've found this little tutorial helpful. I hope to see you all over at Bloglovin'! And don't forget to
follow The Stars Apart
.