What can I say about my trip?
It was perfect.
It was just what I needed.
It was too short.
When I arrived and I saw Steve, I didn't think I would ever let him go in the airport. He is not the soppy sort though and was soon prying me off of him. Plus I knew that I had Jacob waiting out in the car for me, and I couldn't wait to see how he'd react. I got many kisses from Jacob, and he was soon trying to sit right in my lap in the car. What a funny boy.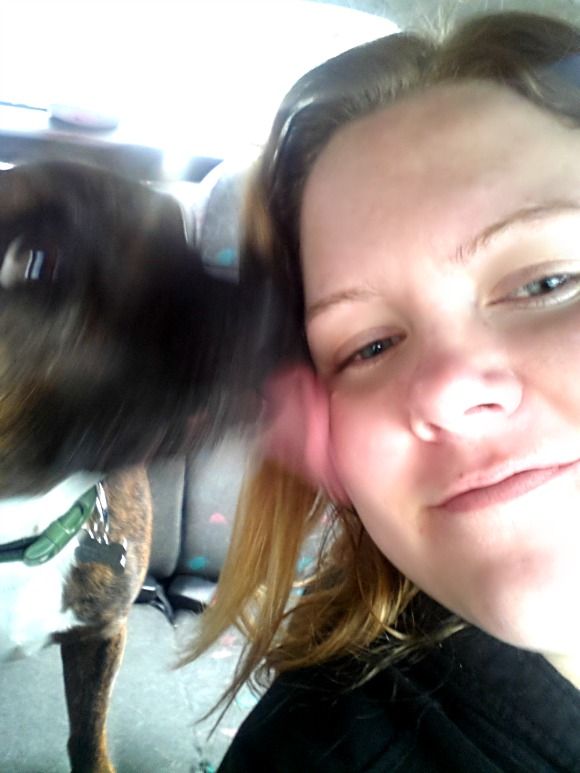 Getting lovely kisses.
The first evening was nice and chilled out. Just a normal night with my boys and my heart was so full. Some drinks and fish and chips and cuddles and a film. I had no complaints.
Love these two.
 
The next day we had planned to go round Sadie's house before going to meet Steve's mum and step dad in town for lunch. As we were driving, I started to feel really anxious about meeting Oscar. My tummy was in knots. But Steve told me to 'quit being a fanny' as he always so eloquently puts things, so I managed to suck it up and go inside when we got there.
When we walked in I got a big hug from Sadie, but I was distracted by the baby things everywhere, and my eyes sought out the baby on his play mat on the floor. Then the tears came. But they were brief. It was more because I was overwhelmed than sad.
I had my first cuddle from my very first nephew then. And he is beautiful. He is a really happy and smiley baby and it was nice (so nice) to have a baby in my arms. I think nobody knew quite what to expect as a reaction from me, but it was okay. And then things were easy with Sadie like they always have been.
We went into town and it was so nice to be out in the old streets of England again. In a dank, old pub where the stairs are not even heights and the floors are not level. Where you can take the baby or the kids and everyone can have a good time as a family. Pub culture is not something you get in Canada, and it's definitely something that I miss.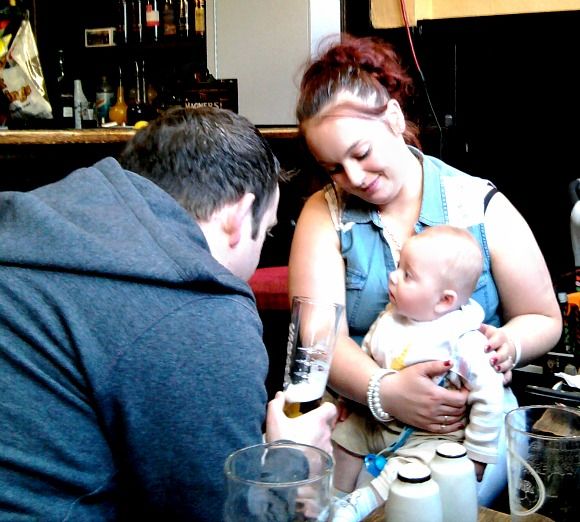 Sadie, Steve and Oscar.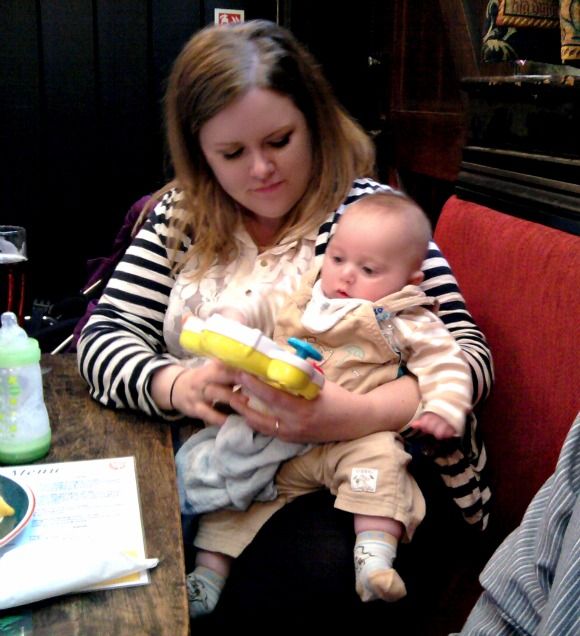 Unconditional love.
 
We did some shopping and then all went our separate ways home. After a quick siesta (I had many an afternoon nap on this trip), Jacob and I went round to see my friend Crystal (and her staffy Diesel) and have a good ol' knees up. I feel like nobody can put the world to rights quite the way that the two of us can. Jacob was thrilled to run around with his brother from another mother (they are both brindle staffies who look quite similar). Steve joined us for a bit, and then took himself and Jacob home to bed. I crawled home in the wee hours of the morning in time for a snooze before we all got up again for a beautiful sunny picnic.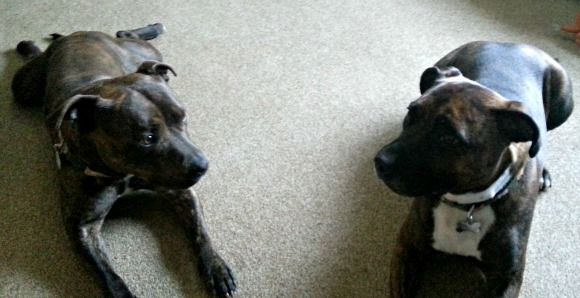 Diesel and Jacob.
 
We had a lovely picnic with Crystal, her kids and the dogs. I got sunburnt just chilling in the sun. The dogs were happy to run around and play and were really well behaved. The kids were all really good. It was just nice. When we got home, Jacob and I had another snooze before I had to get ready to go see our friends' band play that evening. They are a Paramore tribute band called Paramore (Or Less) and it was their very first gig. They were really good (you should totally check them out if you're in the Southampton area).
Steve with the pupperoos.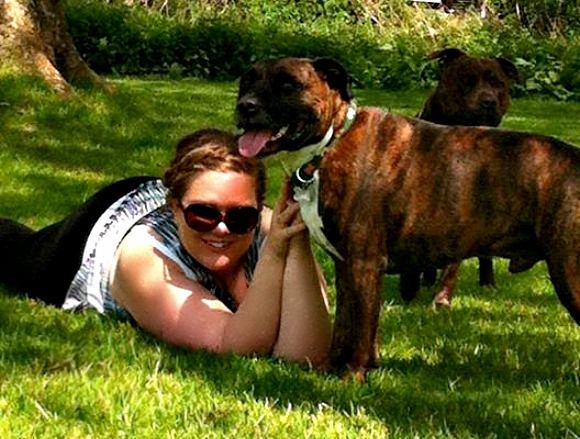 Me with my fur baby.
One of the very best friends a girl could have.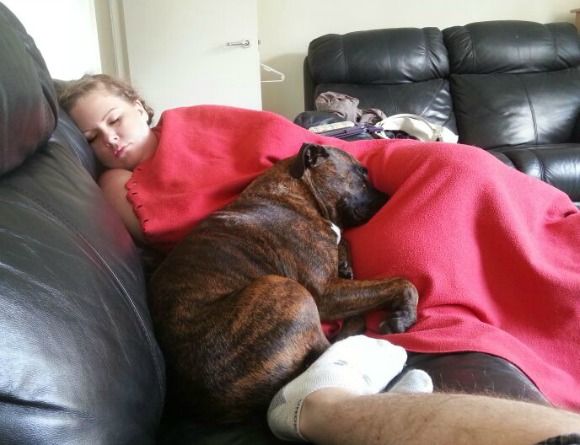 Catching a few zzz's.
Monday was another gorgeously sunny day so we decided to make the most of it and head down to
Lepe Beach
. It was a bank holiday so a lot of people seemed to have the same idea. Crystal came with the kids, our friends Aidan and Kelly met us, and we picked up Steve's mum for good measure. We had a good ramble down the beach. The dogs played in the water and loved it. The kids collected seashells and I just enjoyed being surrounded by the beauty of the day and of the people who were there with me. That evening Steve and I chilled out and watched a film.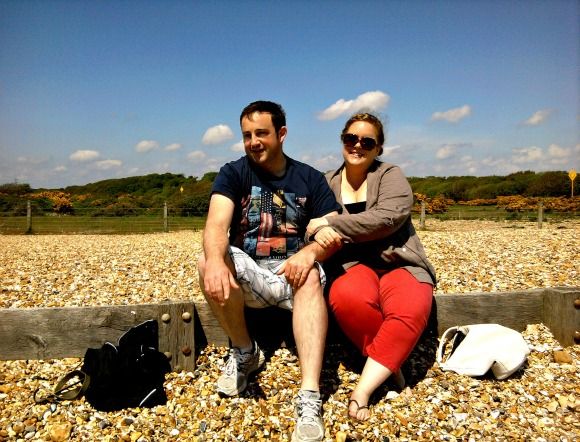 My husband. My best friend.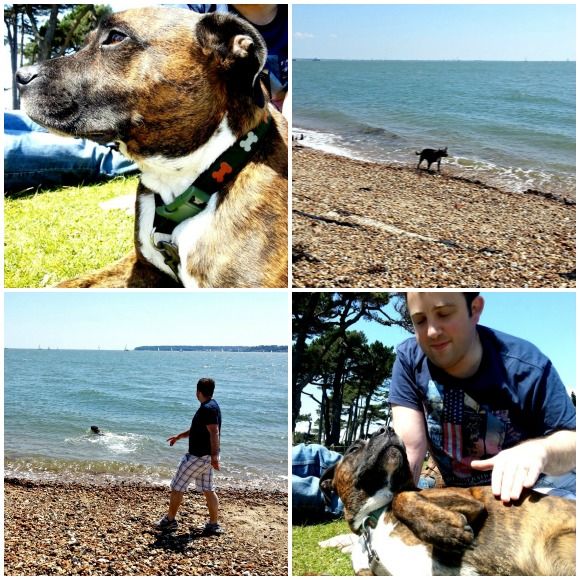 My heart was honestly so full.
Tuesday led us back round to Sadie's and this time Jacob came too. We also took the time to go visit Steve's nan. We had lunch and I had snuggles with Oscar. And then when it came time to leave I cried. I knew I wouldn't be seeing little man again for a long time, and he wouldn't be the same as he is now. I hate feeling like I'm missing out on children growing up – the children of my good friends and family when I'm somewhere else in the world. And at that moment, I just knew I'd be missing out on Oscar – though Sadie promised she'd learn how to Skype.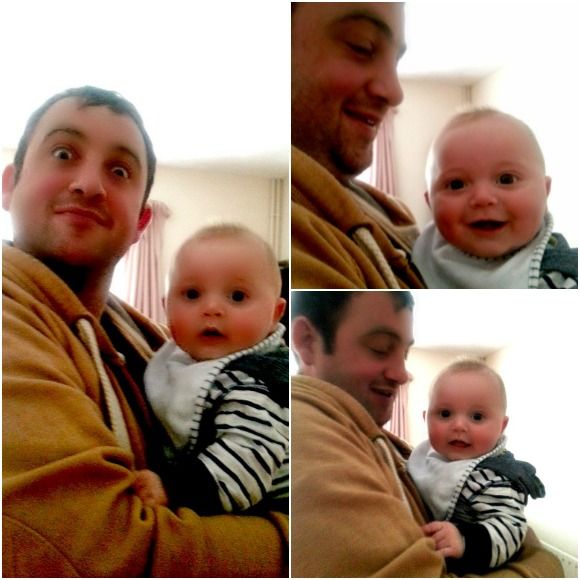 Seeing my husband like this makes me smile.
Finley is a lucky boy to have a daddy like this.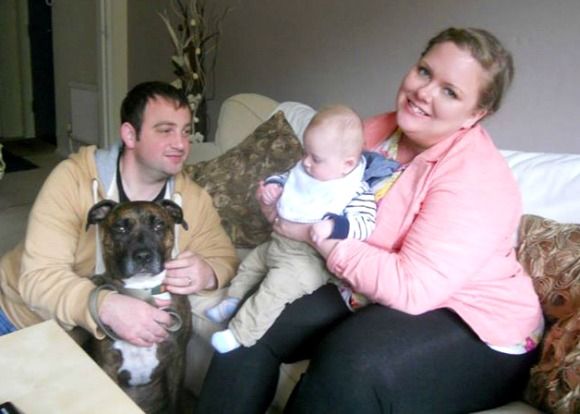 I try not to think too hard about how glad I would be to have a photo like this with Finley in it.
My smile is maybe just a little bit too big to be believable, but my heart was so happy and so overwhelmed.
I had another (drunken) night with Crystal. We polished off two bottles of wine and some cocktails. We talked and talked and talked. I swear she is the best therapy.
Wednesday morning I woke up fully knowing it was my last full day there. I was sad, and Steve could tell. I kept crying. I didn't want to ruin the day by being sad, but I just was. I feel so complete when I am with my family, and being away from them is really hard. I know it hasn't been too bad since we've been apart, but I really didn't want to go.
I spent the best part of the day having snuggles with Jacob. It was rainy. Then Steve and I went to do some more shopping. We had a lovely dinner at Wagamama, and we went and saw the Great Gatsby. Such a nice evening – I didn't want it to end.
But all good things come to an end with the passing of time it seems. I woke up and had to get ready to go. I cried at the airport. I gave Jacob lots of kisses. I hugged Steve goodbye. And then I was okay. I'm back to work and the waiting. And it's not so bad. It's just not as full and wonderful as it is with my little family. I can't wait for October <3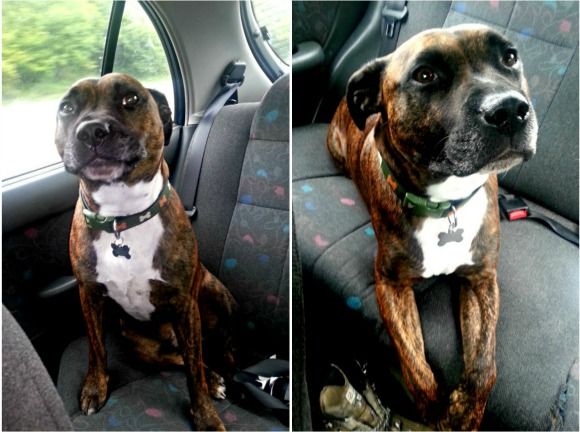 Jacob on the way to the airport. I just love him to bits.