When I first moved back over to Canada, I know I promised an update as soon as I wasn't incredibly busy. I guess now is that time – things have settled down a bit and have gone into a routine.
I don't think I ever shared on the blog, but my nephew was due to be born in February. Finding out that my sister in law was pregnant and then subsequently finding out that she was going to be having a boy were some of the most difficult pieces of news I've ever had to receive and digest. I wrote a post before about how there was a big part of that was afraid that the new baby would almost be a 'replacement' for Finley, in that he would now be the focus of the family. Not to mention the fact that Finley should be the older cousin (it would have been nice for him to have a cousin close in age to play with) and that Sadie and I should have been experiencing first-time motherhood together. I was angry, jealous, bitter and also terrified for her pregnancy and birth (and also happy for them on top of everything else).
I have been around a few babies since I held Finley in my arms, but I had resigned myself that my nephew would be the first little boy baby that I would visit and hold. I wanted to love him despite the pain.
Shortly after booking my flight to Canada, I found out that Sadie`s due date was only 6 days before my flight. Suddenly my plan was up in the air – I couldn`t help dwelling on the fact that I wouldn`t get to meet this little man as a newborn, which in my heart is what I`d prepared myself for; it almost felt like that would be a part of the healing for me somehow. Yet time passed, and it looked as though I`d be long gone to Canada before the baby was born.
For my last evening before flying home, we had planned to go round my in-laws and have dinner. Something nice and relaxed since my flight was early. Steve and I were going to visit his Nan as well, so I could say goodbye. I also had some wedding photos that I wanted to give her. And then I got the news that I was dreading: my sister in law was in labour. I was so upset. I cried and cried for hours. Steve wouldn`t let me go and see Sadie in the state that I was in, and I was far too upset for visiting so I didn`t get to see his Nan either. I eventually calmed down enough to go and see his mum and step dad, and we had fish and chips for dinner.
We didn`t stay long. I wasn`t in a good frame of mind. I still hadn`t finished packing and I was still hoping that I`d be able to see Sadie (and my new nephew) before I left. But plans never seem to go how I`d like them to. She was still in labour when we woke up in the morning. As we drove to the airport, all I could think of was that I was leaving my family (Steve, Jacob and Steve`s family – I was moving towards other family). I wouldn`t see Steve or Jacob for at least 6 months. Sadie was in labour and I would have no contact with the world for at least 9 hours on my flight. I was having to, in a lot of ways, start my life all over (again). When we arrived at the airport I gave Jacob so many hugs and kisses. He had absolutely no idea what was happening. And then I had to say goodbye to Steve. I cried so much, and eventually he made me go in. People were staring at the crazy crying girl. It was very, very difficult.
When I landed in Canada, I had a photo message waiting from Sadie, but the photo would not download. I just kept wondering (and assuming) that it was a photo of the baby, but I had no way of knowing for sure. I think it was Steve who initially told me that my nephew was born. His name is Oscar Joey Fynn (for Finley): born at 03:30 on 17th of February weighing 7lb 7oz. When I saw the photo of him, I broke down again. I cried because I missed Finley. I cried because I never had the opportunity to do a happy birth announcement. I cried because I was jealous of her and the fact that she would get to bring Oscar home and live the life with him that I so desperately want for myself and Steve. I cried with relief that they were both safe. I cried because he was beautiful and I knew I would love him. I cried because I felt horrible for being upset about his birth, especially since Sadie will be such an amazing mum. I cried because I wouldn`t get to meet him while he was lovely and tiny, and for the fact that my plans were ruined. I cried and cried and cried some more.
My first days back in Canada were spent being pretty much hysterical and also trying to see all of my friends and family, and figure out how other pregnancies were going to affect my relationships (my best friend in the whole world is also pregnant, which is another story all together).
I think at first my friends didn't know what to do with me. I would randomly burst into tears in random places. I was suffering severely from jet lag and everything else. But somehow they coped with me, helped me to get sorted, and kept me busy. I know I don't ever say it enough, but I am so grateful for all of my oldest friends – those who have been there for me through everything (you know who you are).
Within my first week, I accomplished A LOT. I'm going to be boring and write it all here, if nothing else so that I can remember how productive I managed to be despite everything.
Switched my driver's licence from a UK one to a Canadian one

Applied for a SIN card in my married name

Opened a bank account

Went to Canadian customs to register all of the stuff we were planning to ship from the UK (I didn't know coming into the airport that I needed values of everything, so I had to do it after the fact)

Bought a car

Registered said car

Insured said car

Updated my resume

Applied for jobs

Sorted out my phone (which was a nightmare by the way)

Visited so many friends and family
I felt pretty satisfied about it all. Life was really looking up in some ways. I just needed to pass the time until Steve and Jacob come over.
It wasn't long until I started getting calls for interviews. I went to so many, and quite quickly I was offered a job at the salary I'd requested, with benefits and profit sharing. I enjoyed the job a lot, and the people I worked with were amazing. They knew all about Finley and were very compassionate about everything.
But – a month later I was offered another job. With a dream salary. It was three times what I was currently earning. Lots of long hours and shifts and a long commute, but an offer I couldn't pass up. And so last Tuesday I started my new job.
I have to say that getting up at 5am sucks. Like really really. But I like finishing at a normal time, it makes it feel like I'm not actually doing as many hours. And I like the job. The time passes quickly and the people are funny.
My friend and her fiance that I'm living with have also been amazing. It was very generous of them to let me live with them. I feel less lonely than I would if I had to live alone. It's nice to share meals with them and to know somebody in the city (the rest of my friends and family live a 1.5 hours drive away).
There has been SO MUCH snow. More than I've seen in years and years. I kind of forgot how intense winter in Alberta can be. But snow is good for writing in :)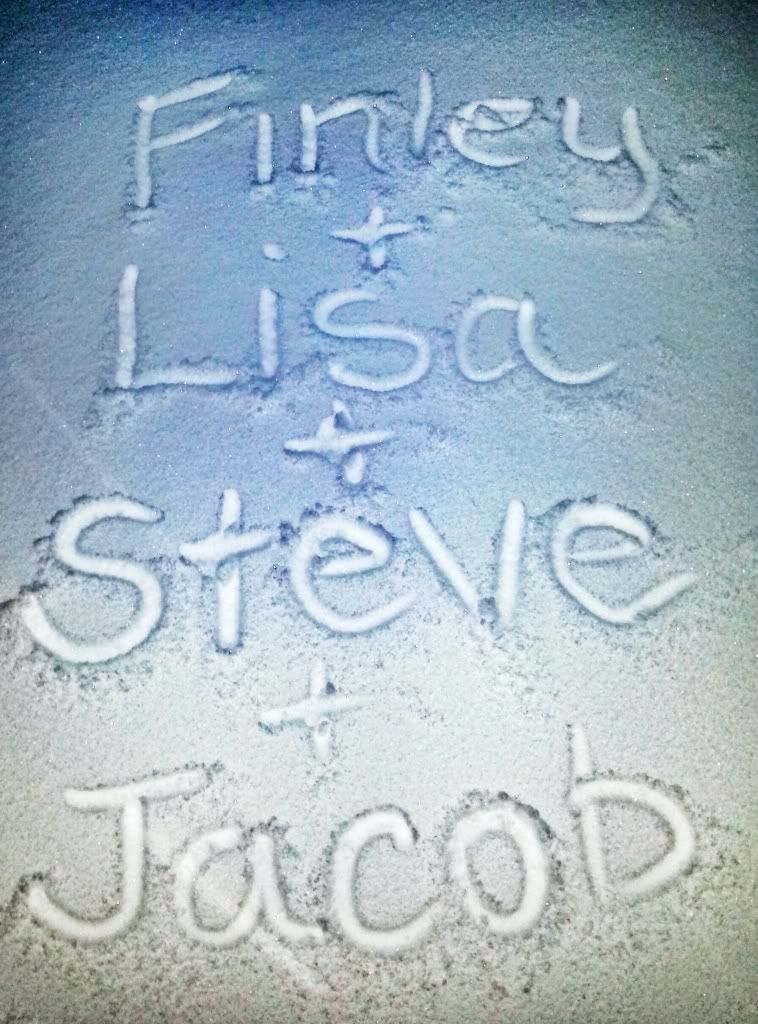 So that's where I'm at.
I've come to terms with Oscar being born, but I can only look at photos of him when I'm in a good frame of mind. I think that if I had met him it would be different, but at the moment I see photos, and he's starting to look more and more like Sadie than his dad (in my opinion). Sadie and Steve look similar, and so I can't help wonder if Finley and Oscar would have looked similar too. I will never know.
I'm in a good job that will help give Steve and I a leg up in our new life here in Canada. I just look forward to a time when we're all together again.