Because today is American Thanksgiving, I thought it would be fun to do a pumpkin pie post
I absolutely LOVE pumpkin pie, but it is nearly impossible to come by in the UK unless you make it yourself. The first year I was living here, I made my own pumpkin puree from a Halloween pumpkin and the texture was all wrong. I have since learned that I would have been better off using a butternut squash…but hey…you live, you learn.
Nothing beats using tinned pumpkin though. This year for Canadian Thanksgiving in October, I discovered that you can now order it on Amazon (it's crazy what you can order on Amazon these days!). I ordered the ever trusted Libby's Pure Pumpkin, and followed the Libby's Famous Pumpkin Pie recipe that can be found on the tin.
Libby's Famous Pumpkin Pie:
Ingredients
Directions
MIX
sugar, cinnamon, salt, ginger and cloves in small bowl. Beat eggs in large bowl. Stir in pumpkin and sugar-spice mixture. Gradually stir in evaporated milk.
POUR into pie shell.
BAKE in preheated 425° F oven for 15 minutes. Reduce temperature to 350° F; bake for 40 to 50 minutes or until knife inserted near center comes out clean. Cool on wire rack for 2 hours. Serve immediately or refrigerate. Top with whipped cream before serving.
Leaving the mixing work to my trusted Kitchen Aid mixer, I began preparing my pastry. Because we are in the UK, I used a roll of sweet short crust pastry in lieu of the frozen pie shell.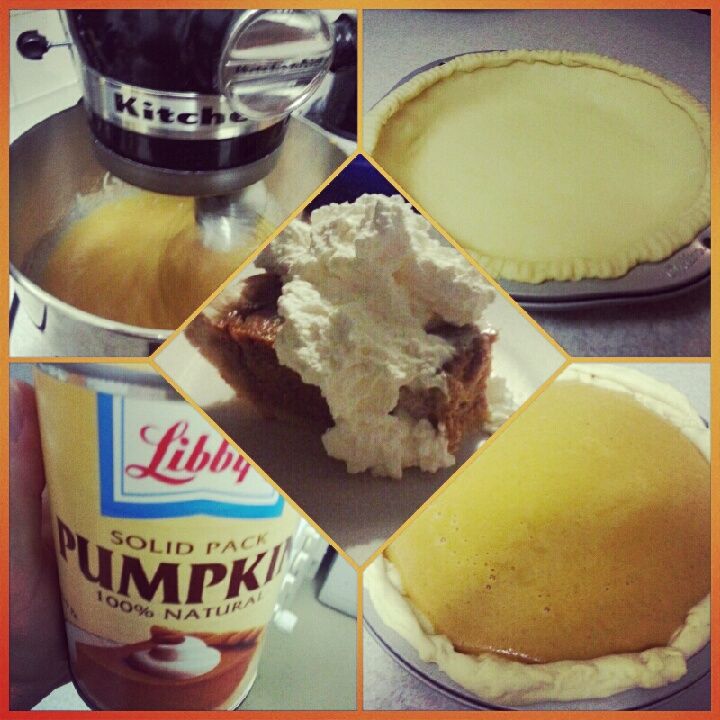 I shared this photo on Instagram on Canadian Thanksgiving 2012.
I had so much fun making my pumpkin pie!
The results were fantastic (as usual)! And because my husband is weird and won't try pumpkin pie, I got the whole thing to myself!