The internet. I often find myself wondering how we ever lived without it. And yet, sometimes it is an extremely painful reminder of how things would be if Finley didn't die.
My facebook currently has an ad that says 'Beaming Baby – Give Your Baby the Best Start to Life' and also 'Pampers – Picture a Better Future. Vistaprint do an ad as well for a free personalised calendar – always complete with different photos of incredibly cute babies.
The number of people whose posts I've blocked from my news feed is getting bigger and bigger. People who I care about and want to remain friends with, but who's pregnancy announcements, scan photos, birth announcements and baby photos I can't handle seeing unless I've mentally geared myself up for it. I've blocked so many posts, and yet there's always somebody new with baby news, and so the list just continues to grow.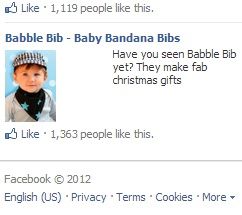 Babble bibs? Really? Can't my facebook just leave me alone?
The same goes for Instagram. Photos that I'm sure are lovely, but that I just can't face seeing. I actually downloaded Instagram on my phone right before Finley was born. I was gearing up for all of the baby photos I anticipated posting. After he died I deleted it for a time – seeing the icon on my phone was a hard reminder.
Today I received an email from ASDA Baby advertising Christmas items. Yesterday I received one from Kiddicare where we bought Finley's nursery bedding.
Even the websites where I connect with other bereaved parents are often pregnancy and parenting sites. The places where I network for this blog are quite often parenting sites – because although my son isn't here, this blog tells a story that I think is an important one to include on these types of sites. For other parents like me whose children aren't with them.
And so each time I log in to facebook, I get a sharp reminder of where we should be. When the emails come in, I get a sinking feeling in my stomach. I spend time trying to remove myself from mailing lists, but somehow emails still manage to filter their way through.
Sometimes, I can be having a positive day, and when I hear the beep of my phone, I check my email and can be instantly crushed.
I don't think there is ever a way to avoid such things, and I guess that is a part of living with this new normal that I face. Things that I never even took notice of before can now bring me tumbling down to a very low place.
If you can relate to these goings-on, what would you recommend doing to help ease the pain? What do you do to help protect your heart, if only a a little bit?
Watch for tomorrow's post: The Internet – A Bereaved Parent's Best Friend? where we will discuss the other side of having the internet available after the death of your baby.