A couple of months ago now, Carly Marie over at
Project Heal
 came up with a wonderful idea for Pregnancy and Infant Loss Awareness Month (October). The idea of
Capture Your Grief
was to take a photo a day for the entire month. Each day had a specific photo prompt.
I spent the month taking photos and thinking about which photos I would post. A lot of people posted a photo a day, but I decided to save them all up and post them as an album. I've shared some photos here that I've not shared online before. Specifically the one of Finley my husband hasn't and doesn't want to see as he wants to remember him as he was when he was alive, so please be sensitive if you know him.
Without further ado…I present Capture Your Grief 2012.
Day 1 ~ Sunrise
I snapped this photo just as the sun was coming up over the hill while I was stuck in traffic on the way to work.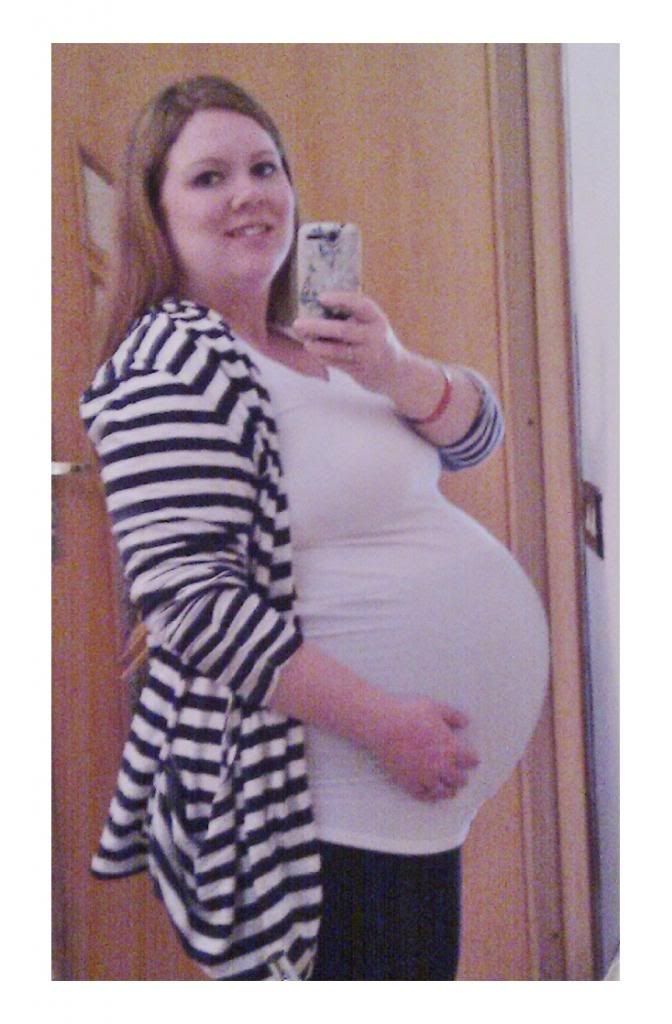 Day 2 ~ Before Loss Self Portrait
This is the day my waters broke and I went into labour. I knew that I was at the most a day or so away from finally meeting my first born, my son, my Finley. I was so happy and so excited.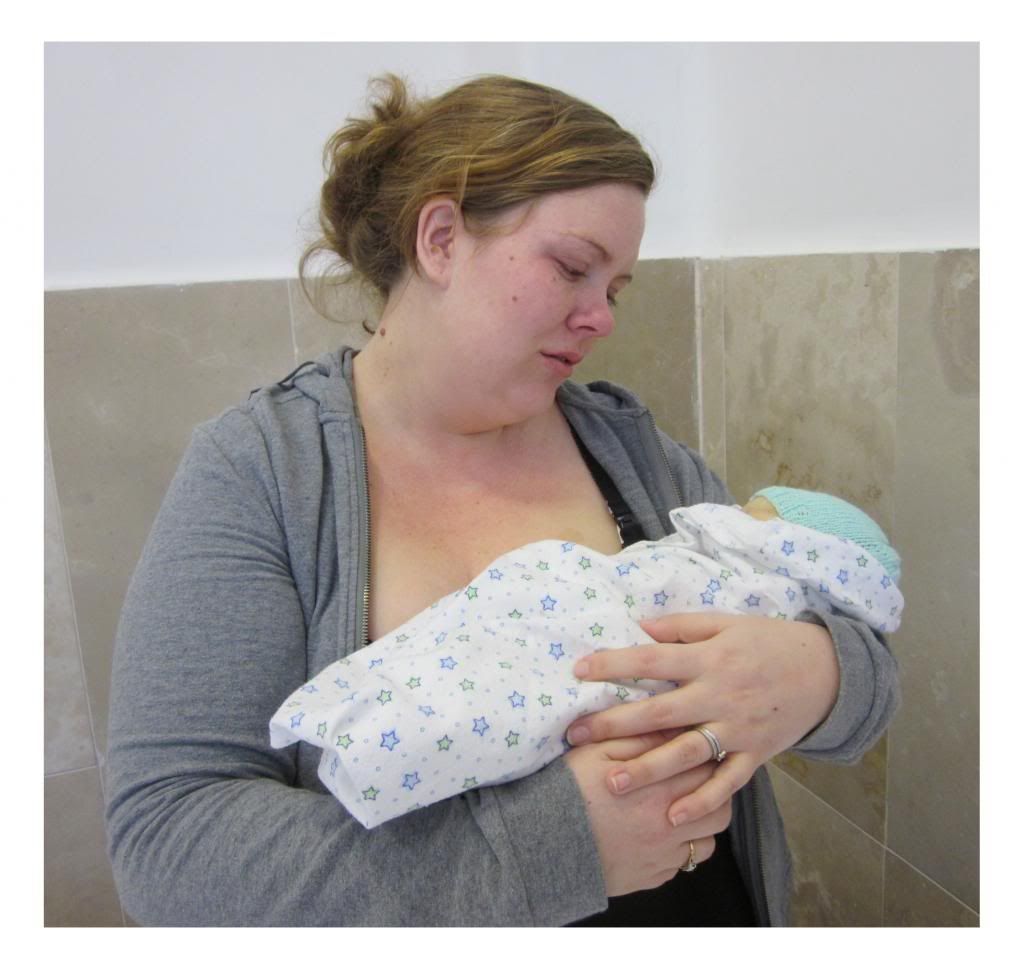 Day 3 ~ After Loss Self Portrait
This was when I finally got to hold Finley properly for the first time. I had to say hello and goodbye all at the same time. This photo was taken less than a week after my Before Loss Self Portrait.
Day 4 ~ Most Treasured Item
It was too hard to pick just one. This is the blanket we bought him with the hippos on that says Daddy Loves Me. The two blankets I wrapped him in. His footprints. His birth certificate. His lock of hair. The name tag that was on his incubator in the NICU. The booties and hat I put on him. The cardigan I spent hours learning to knit for him and finally finished just days before he was born. The first baby grow we bought for him before we even knew he was a boy. And of course the little teddy urn that holds his ashes.
Day 5 ~ Memorial
I got this tattoo in Finley's memory. The footprints are his and they are true to size. I love seeing it as a daily reminder of his life and how perfect he was.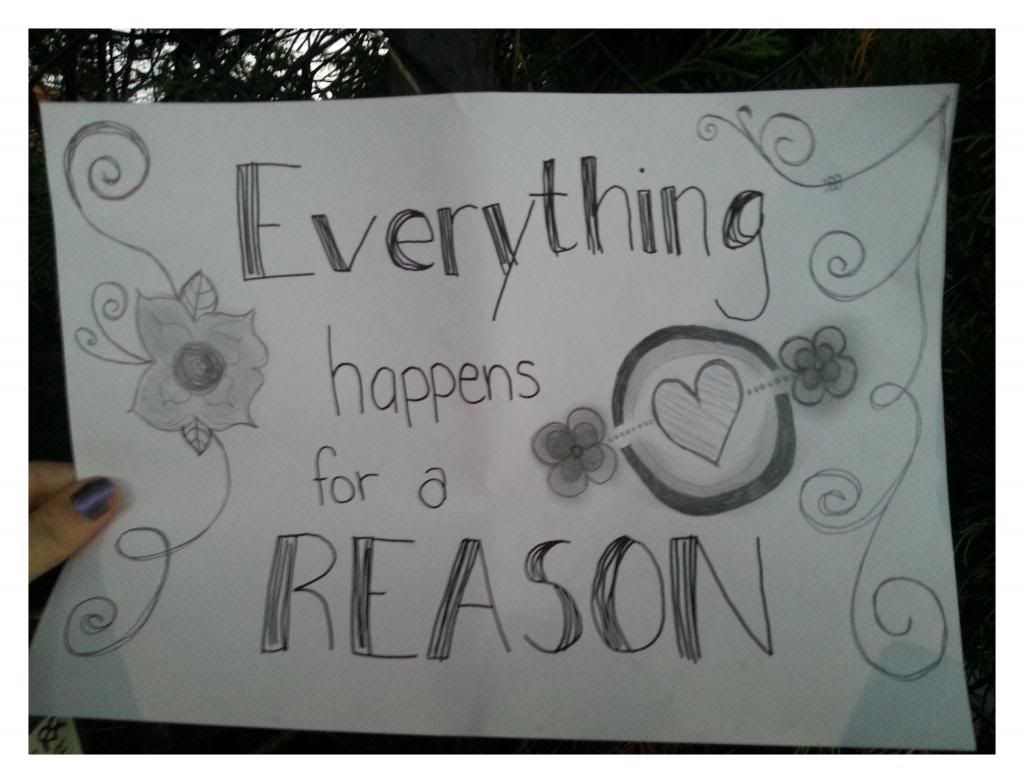 Day 6 ~ What Not to Say
Everything happens for a reason. Please don't say this to me, because I can't see a reason for why my son had to die when he was perfect. I find this saying hurtful and a bit shallow as though the person saying it is just spewing out crap because they don't know what else to say. But please remember that saying anything, even if it's wrong, is better than saying nothing at all.
Day 7 ~ What to Say
Say his name. Say Finley. It brings happiness to my heart.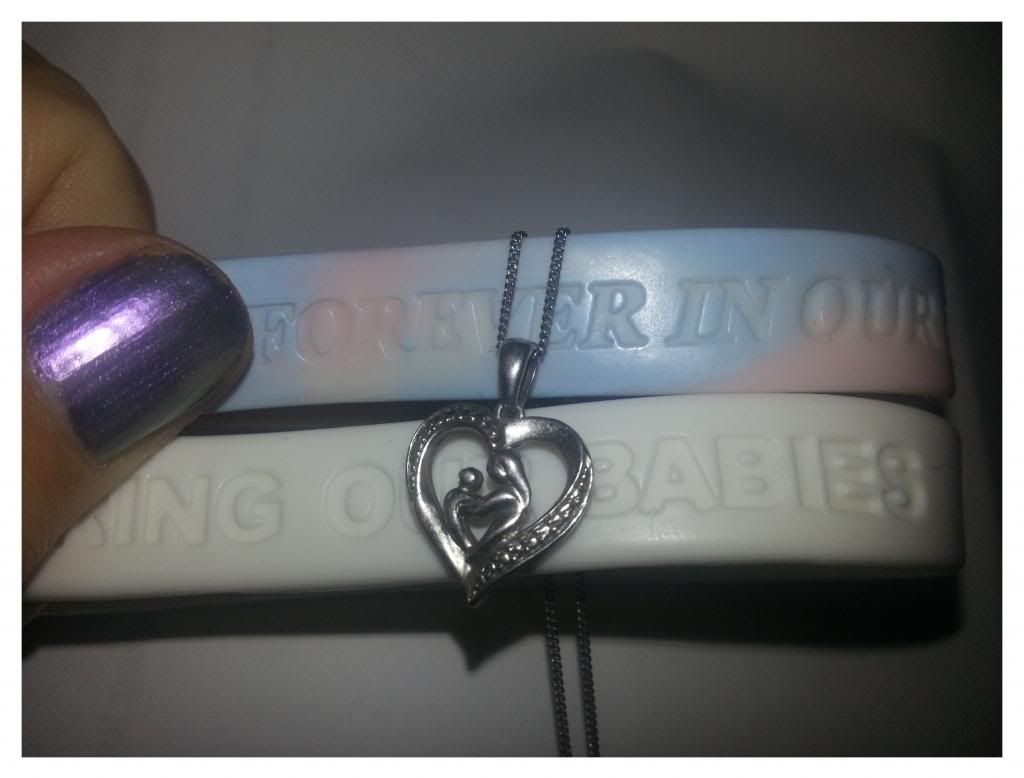 Day 8 ~ Jewellery
I wear these bracelets and necklace all of the time. One bracelet is from the first support group I attended at home in Canada called HEARTS and the other is from my Sands group. The necklace was given to me by my best friend in the world on Mother's Day.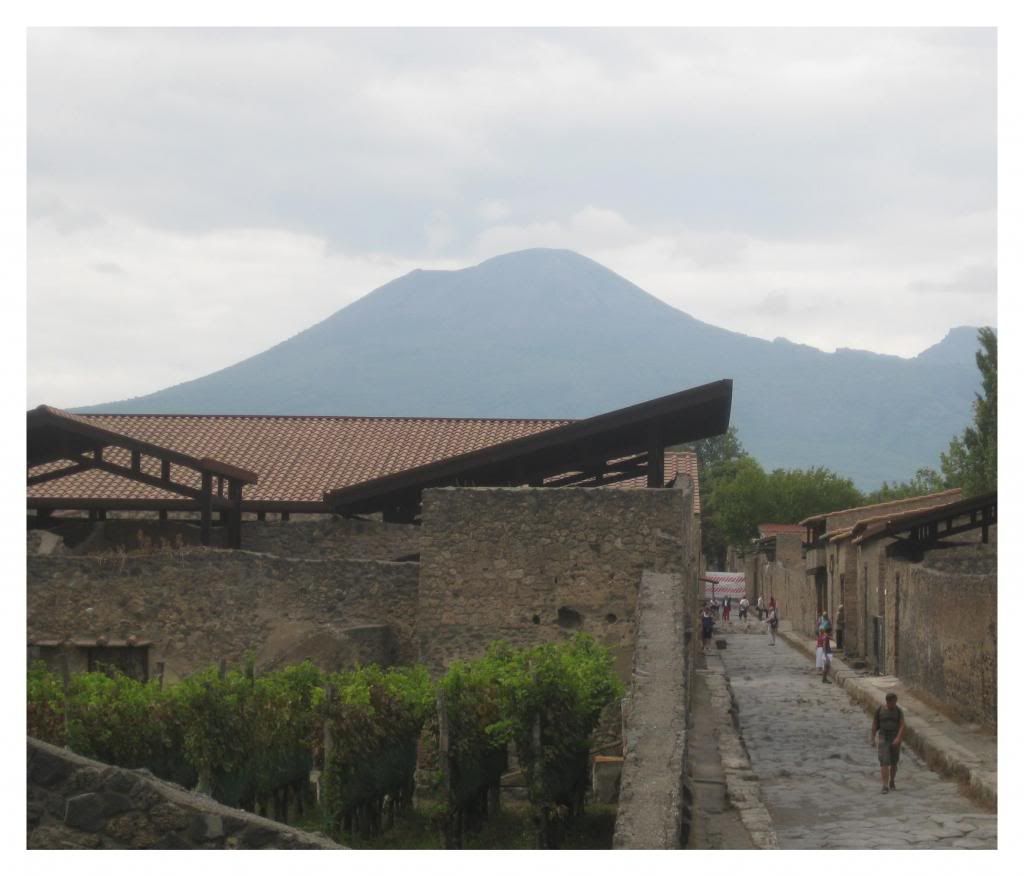 Day 9 ~ Special Place
Naples, Italy. The place where I was pregnant. The place where Finley was born. The place where Finley died. I took this photo in Pompeii of Mount Vesuvius which is sort of a universal image of Naples.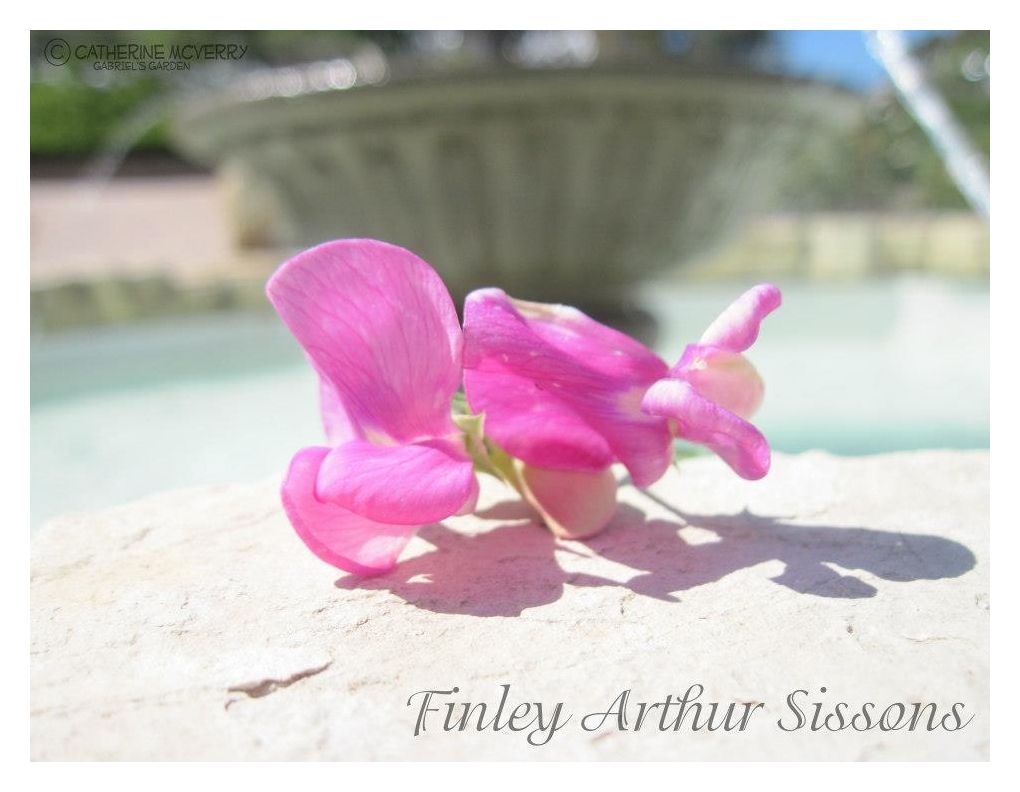 Day 10 ~ Symbol
Sweet peas. When I was in early pregnancy my pregnancy/birth forum created a facebook group called Sweet Pea Club. Sweet Peas are the flower for the month of April when Finley was due. Ever since I think of him as my little sweet pea.
I didn't take this photo, the credit goes to Catherine at
Gabriel's Garden
.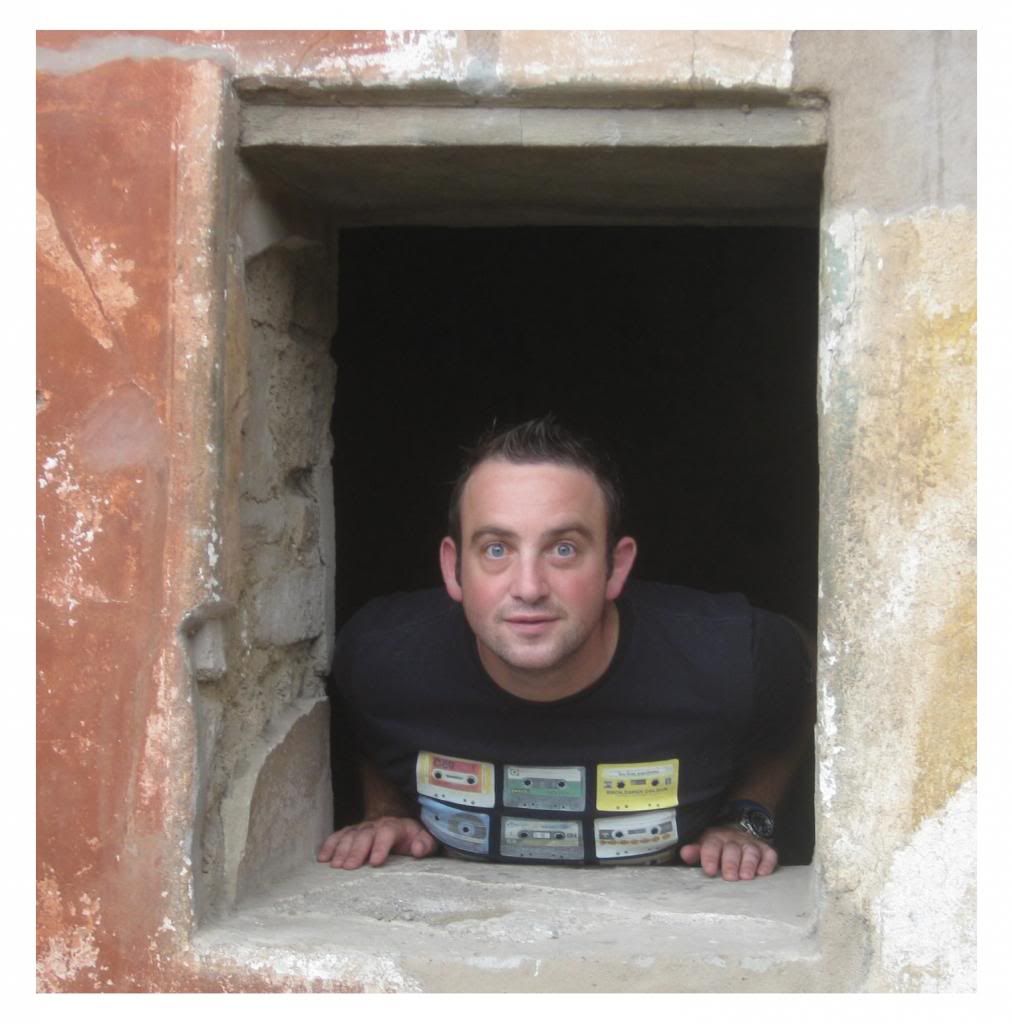 Day 11 ~ Supportive friends/family
I have had a LOT of people who have supported me through this time. But the number one person has to be my husband Steve. I chose this photo because he's doing the 'crazy eyes' that he likes to do when he's trying to make me laugh.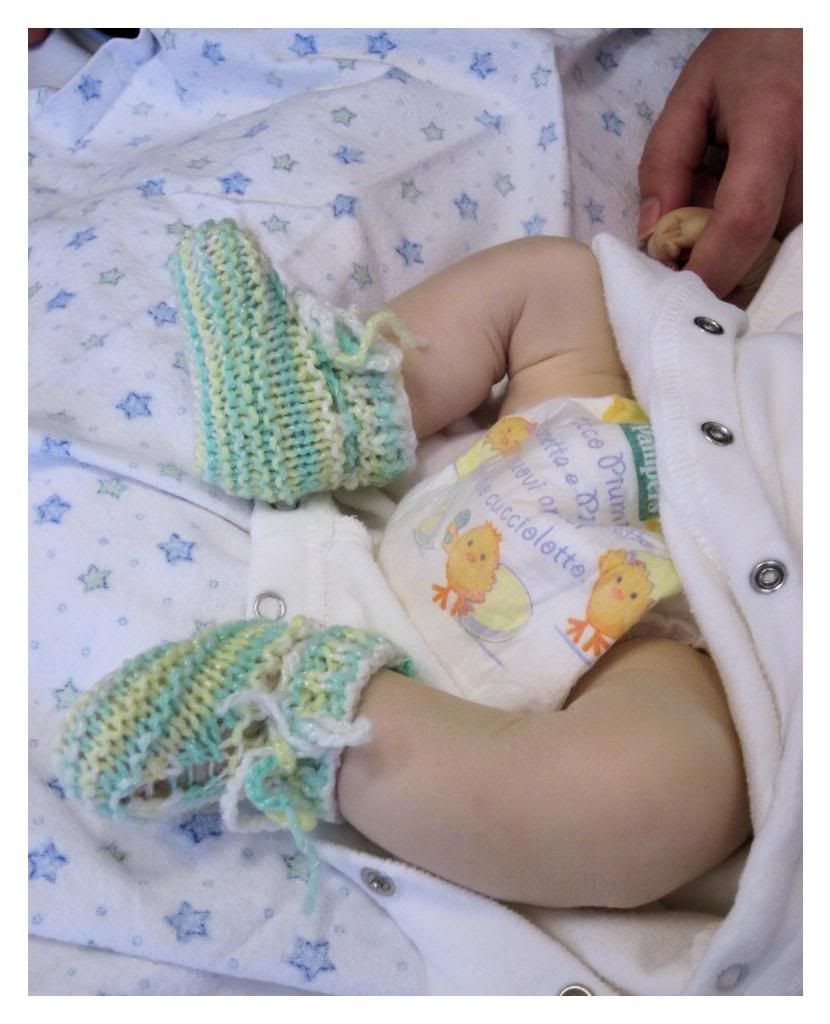 Day 12 ~ Scents
The little star covered receiving blanket that Finley was wrapped in still smells of him. Or maybe I just like to imagine that it does.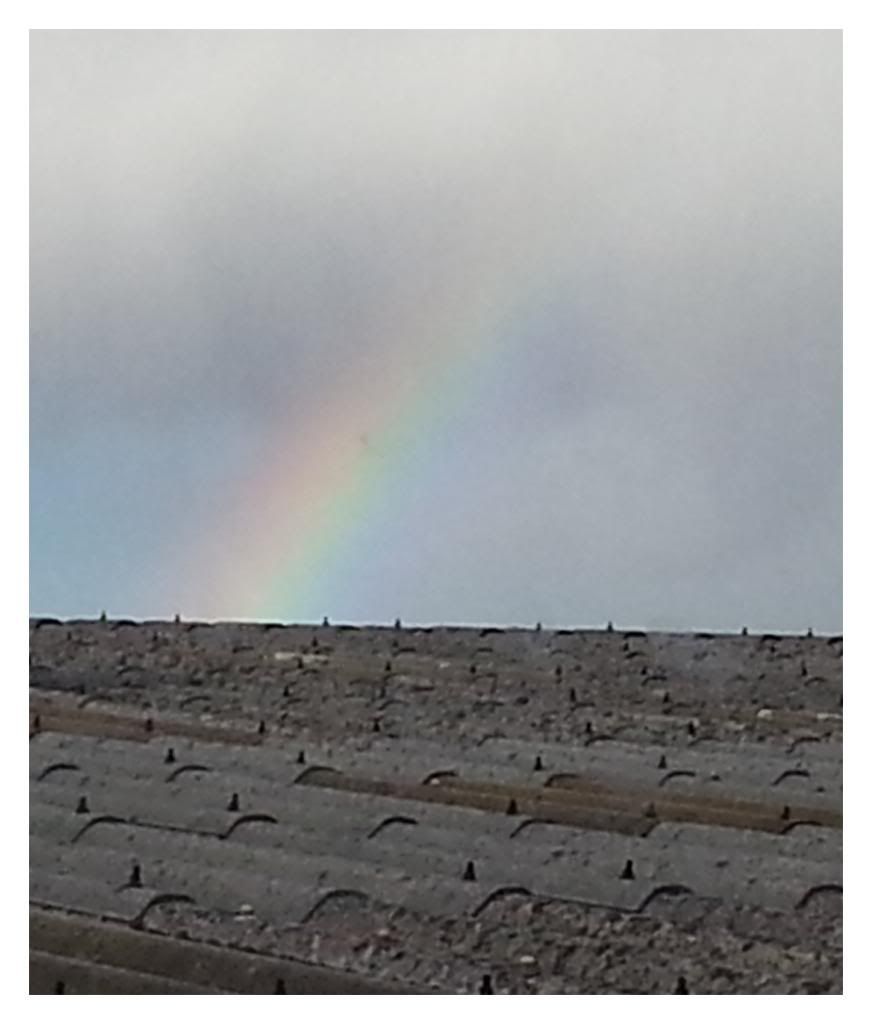 Day 13 ~ Signs
I'm not sure I believe in signs, but every time I see a rainbow I think of Finley. I took this photo out the window at work.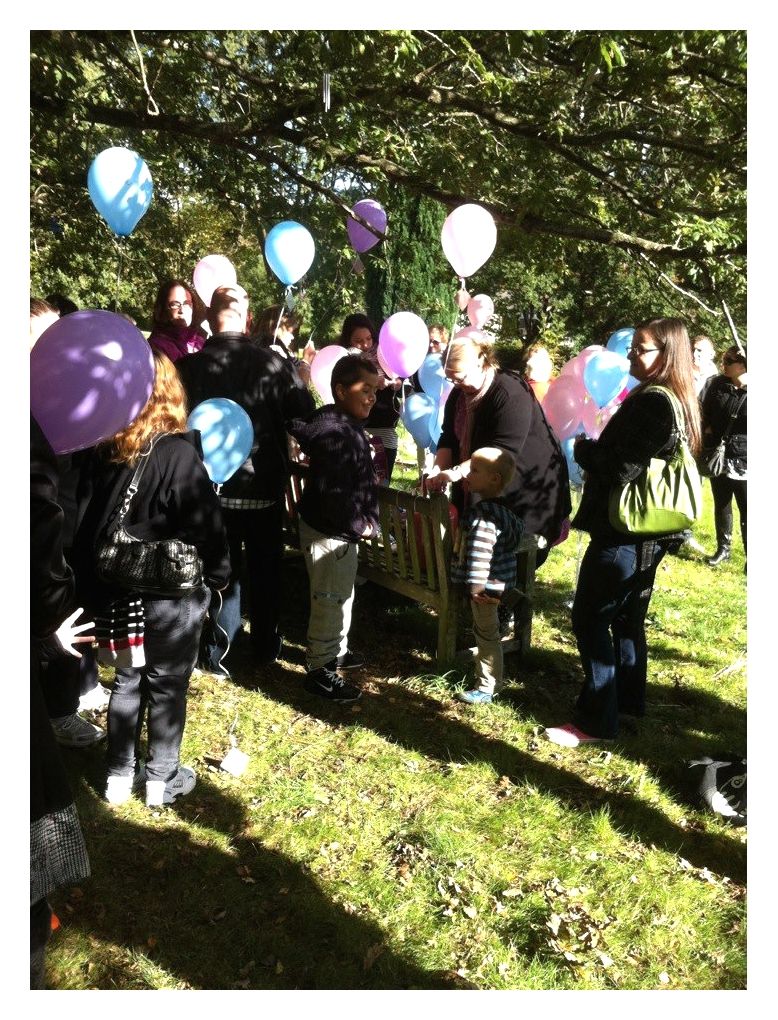 Day 14 ~ Community
This is a candid photo that was taken at a balloon release event that I organised for my local Sands group. They have been such an amazing support for me.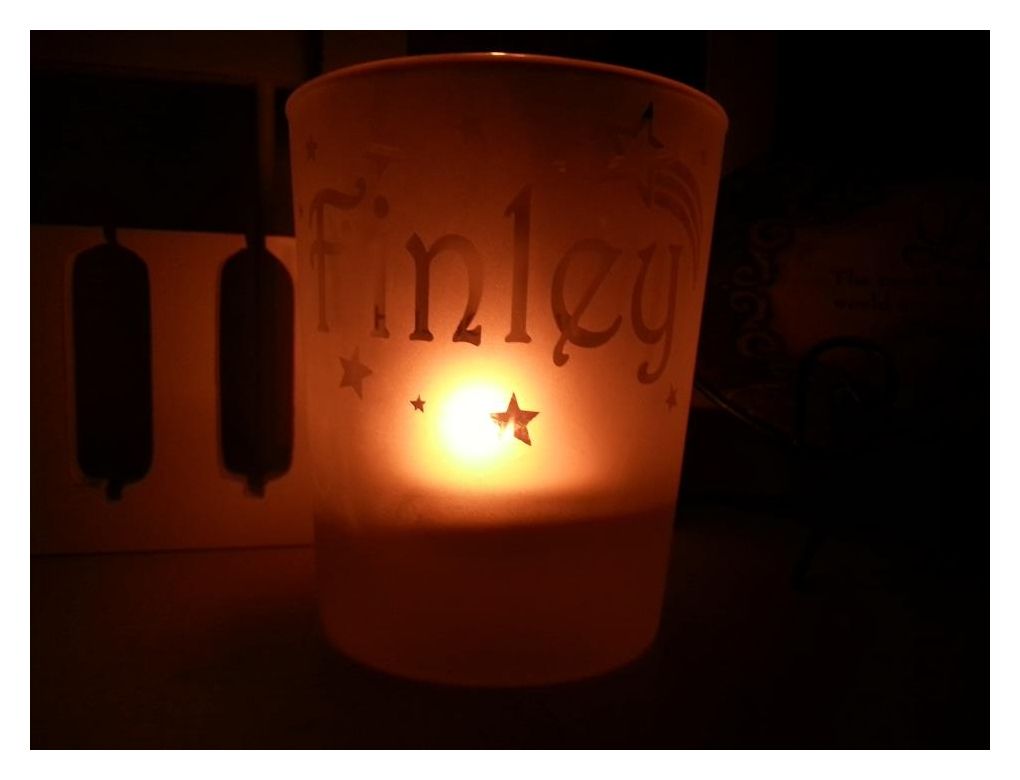 Day 15 ~ Wave of Light
At 7pm on 15th October, I lit Finley's candle in his memory and for all babies gone to soon.
Day 16 ~ Release
I organised a balloon release event for my local Sands group for Pregnancy and Infant Loss Awareness Day. It was a beautifully sad day and I'm grateful to all of the families who came out.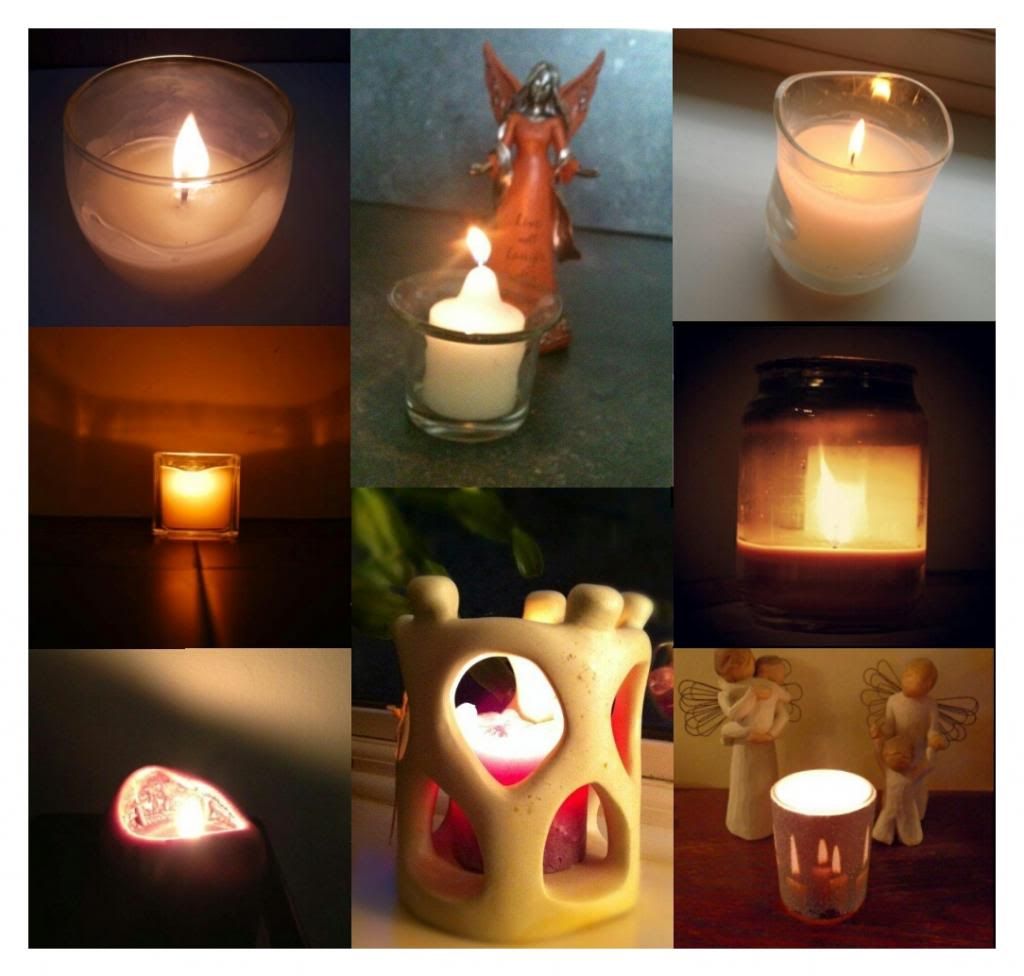 Day 17 ~ Anniversary/Birthday
On Finley's half birthday friends and family around the world lit candles in his memory. I was in awe of how many people were thinking of us.
Day 18 ~ Family Portrait
This is the best photo we have as a family. I wish that we had a normal, happy one with Jacob in it.
Day 19 ~ Project
I spent hours working on this prayer flag that I sent to Australia for Carly Marie's October 15th ceremony. I love it so much and am tempted to make another for myself to keep. The elephant and hippo are from the jungle theme we had in Finley's nursery.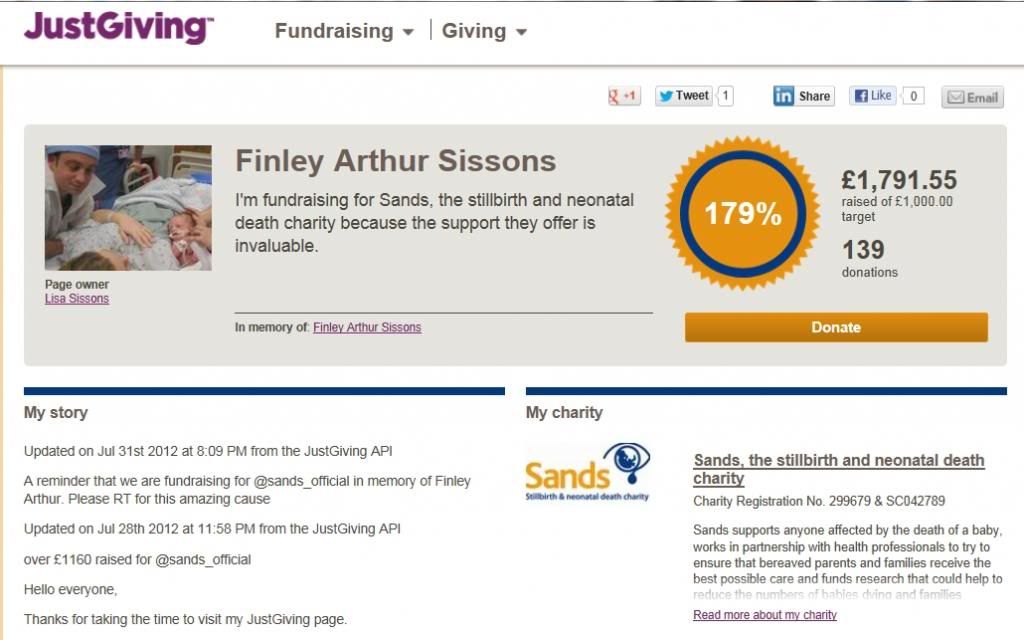 Day 20 ~ Charity/Organization
I've found comfort in fundraising for Sands in Finley's name. The Stillbirth and Neonatal Death Charity has been a huge lifeline and support for me.
Day 21 ~ Altar/Shrine/Sacred Space
This is a shelf in our living room where I keep Finley's photos and urn, along with other family photos. I like to keep him included with the family.
Day 22 ~ Place of care/birth
This is the US Naval Hospital in Naples. This is where I had my prenatal care and this is where Finley was born (though not where he died). It is also where I was cared for after my post-partum hemorrhage. I have a lot of good and bad memories of this place.
Day 23 ~ Their Photo
I've not shared this photo on the blog or facebook before. It is my favourite photo of Finley. It was taken very shortly after he passed away and I think he looks so peaceful and perfect. My husband hasn't seen these photos as he would like to remember Finley as he was when he was alive.
Day 24 ~ Siblings
Finley doesn't have any human siblings. But this is our dog Jacob, who is like another child to us. Jacob used to cuddle up to my bump when I was pregnant. We always used to tell Jacob he was going to be a big brother.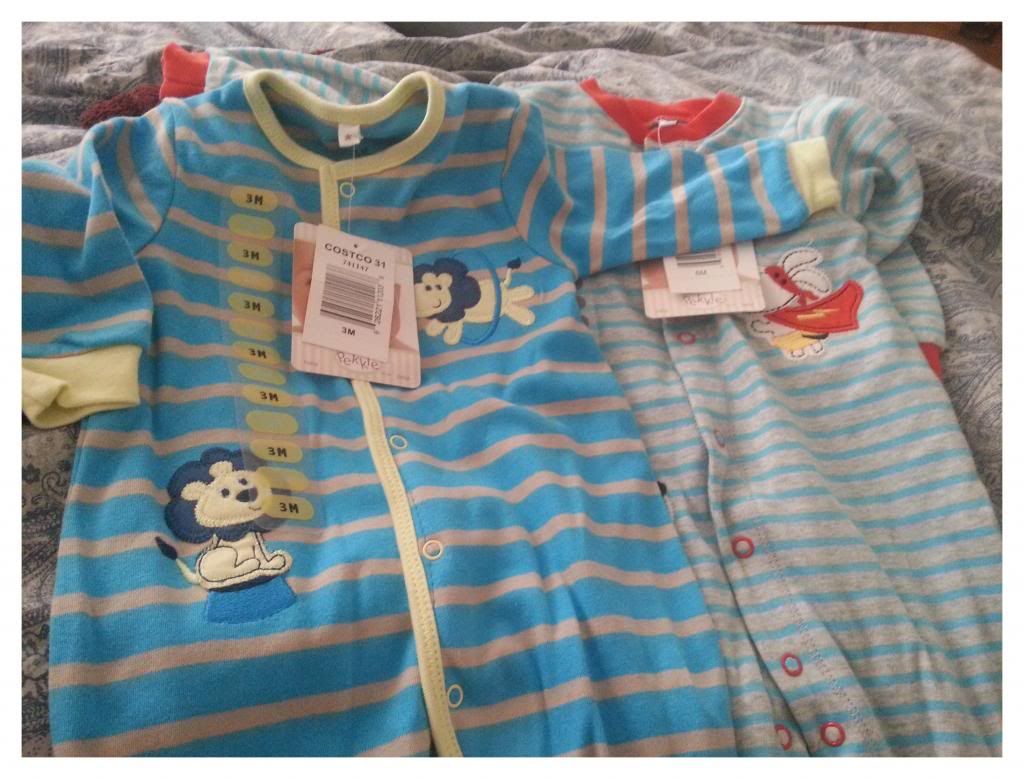 Day 25 ~ Baby Shower/Blessing
We didn't have a baby shower. It's not a big custom in the UK, and my Canadian family and friends were so far away. We were very lucky to have received some lovely gifts though. These are a couple of baby grows that I got from a friend in Canada. I've kept every gift that we were given for him.

Day 26 ~ Their Age.
Finley was 3 days old when he passed away from complications of the brain damage he suffered due to a lack of oxygen during a traumatic delivery.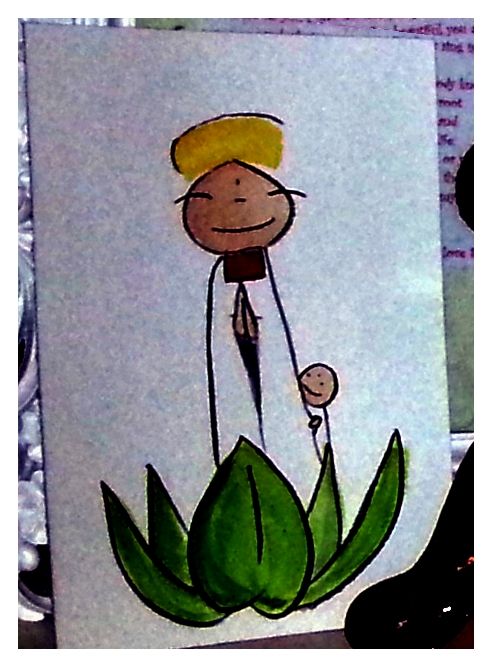 Day 27 ~ Artwork
Angie from
Still Life with Circles
made these Mizuko Jizo's for International Kindness Day. I was lucky enough to receive one. It sits next to Finley's Urn.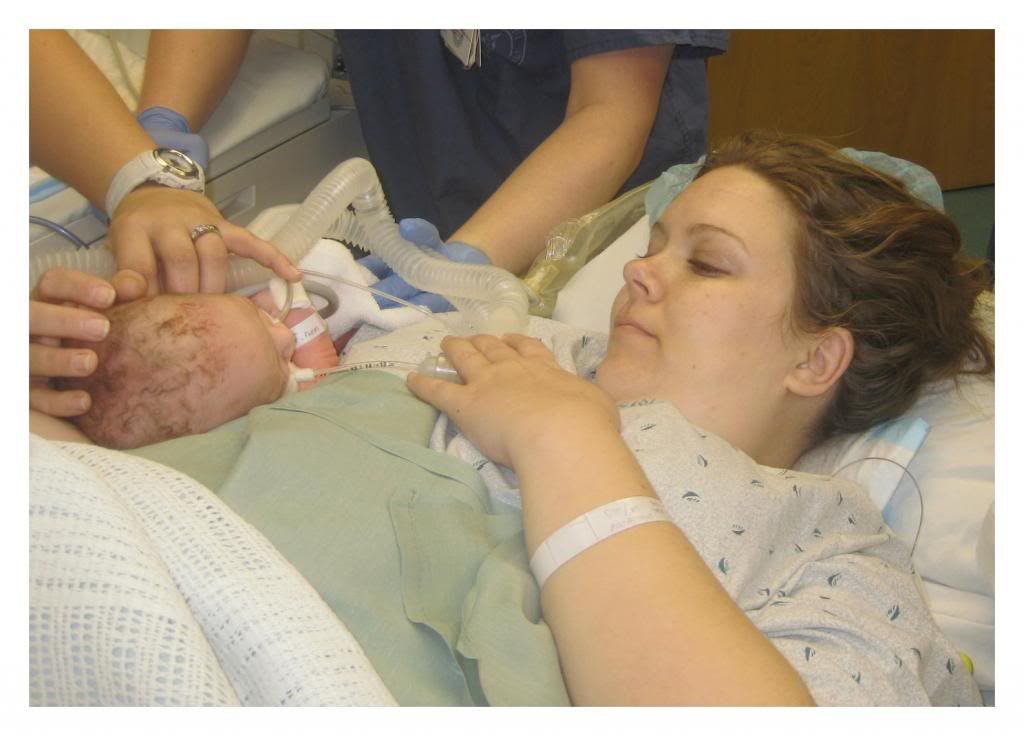 Day 28 ~ Memory
This was the moment I saw Finley for the first time. I only held him briefly while he was still alive. You can see by how my hand is on his head that I was afraid that I would hurt him. I was being so gentle.
Day 28 ~ Memory
I have about a million songs that I associate with Finley, but Small Bump by Ed Sheeran is the most significant for me.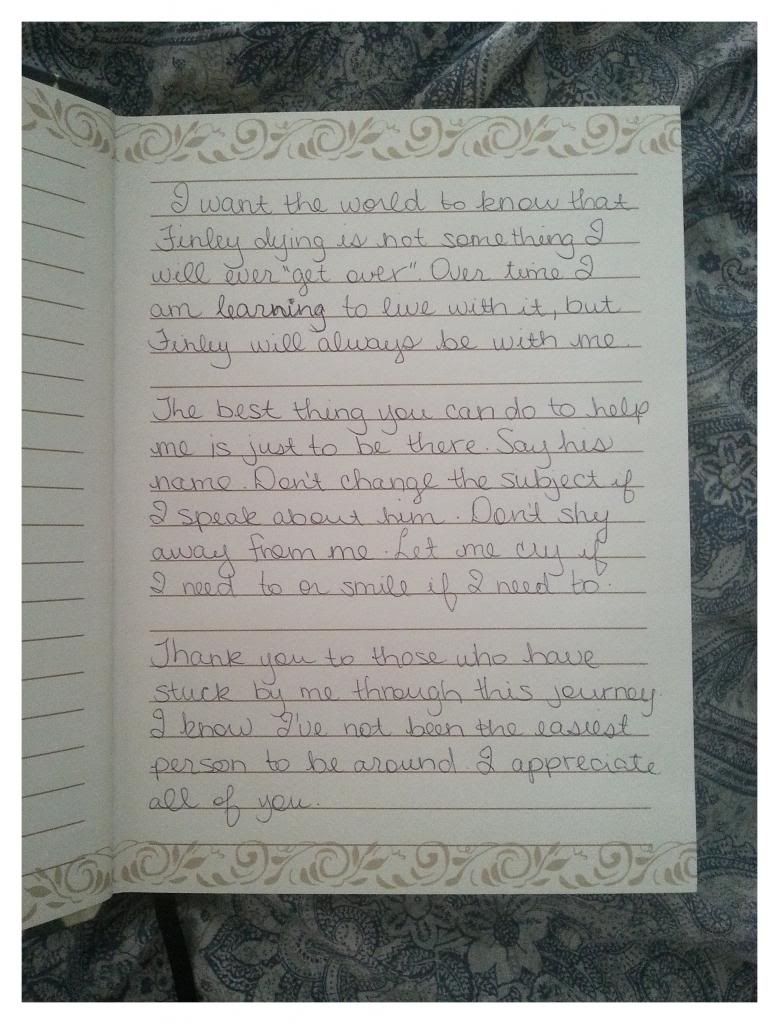 Day 30 ~ Your Grief, Tell the World
I wrote this in a journal that was given to me by a friend's mom who had experienced a full term stillbirth. I'd say she was one of the big influences in me starting this blog.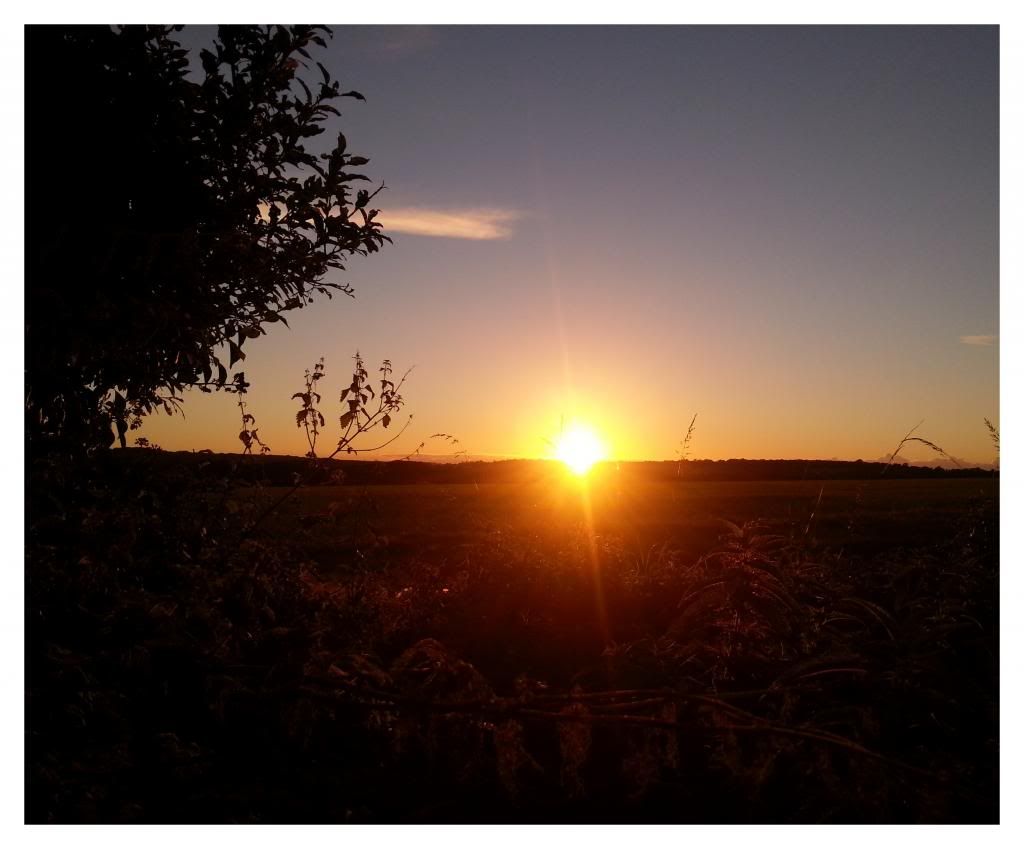 Day 31 ~ Sunset
This photo was taken in a farmer's field not far from our home.